Coalville Locksmiths Our Services

New Locks and
Lock Replacements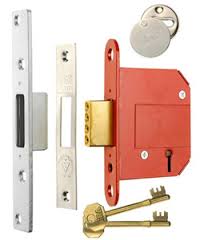 Mortise locks fitted from new, replaced or upgraded to

  British Standard

Yale locks fitted, replace or upgraded.

Internal door locks.

uPVC multipoint locks replacements.

Provide Keyed Alike cylinders
Repair all Locks
Supply Anti-Snap locks
Repair and replace Euro Cylinders and Mortice Locks
New Locks Fitted
 Coalville Locksmiths we have a range of residential locksmith services to help you make your home secure. Also we offer lock upgrades, repairs, uPVC door and window fixes, security surveys, and much more. We also offer a 24 hour emergency locksmith service, helping to gain access to your home. Lock repairs – we will fix your existing lock so it works again. uPVC door repairs – we can fix the locking mechanism inside the door, so it works like new. Also uPVC window repairs – we can fix complicated window lock mechanism. 
Lock replacements and upgrade.
Have you checked that all of your locks are up to insurance standard? At Coalville Locksmiths  we will always make sure that any locks we fit will satisfy your home insurance company, if you are unsure that your locks are insurance standard give us a call and we will be more than happy to help. Having the correct specification of lock is extremely important to keeping you property secure. Lost your keys and need your locks changing? Or maybe you have just moved home and want to make sure you are the only person with the keys to your new home? We can supply and fit new locks to your house to maintain the security of your house.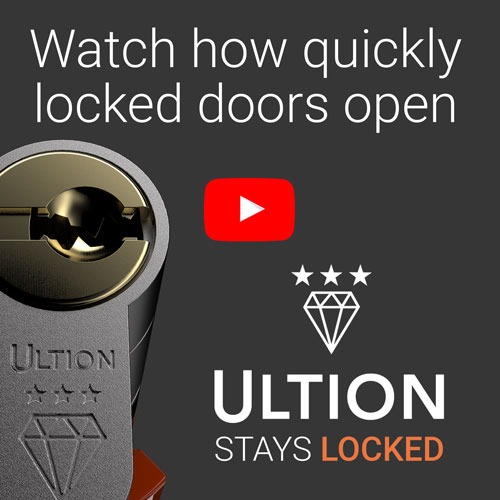 The Ultion range of Euro cylinders is possibly the strongest and best on the market.
Designed to withstand every type of attack the Ultion cylinder is Coalville Locksmiths  choice for Euro cylinders.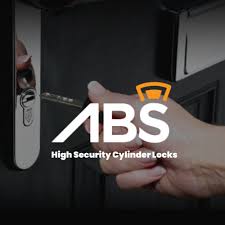 Passes All Lock Tests Your ABS lock has been tested by the Master Locksmith Association and has achieved the coveted    Sold Secure Diamond standard
Ultion 3 Star Euro Cylinder
These are a specialist type of lock that's been given the highest standards from the
locksmith association, to prevent the burglar using a lock snapping technique. The Ultion range of Euro cylinders is possibly the strongest and best on the market.
Designed to withstand every type of attack the Ultion cylinder is Coalville Locksmiths    choice for Euro cylinders.
Out or need your business security reviewing, Coalville Locksmiths  provides a Commercial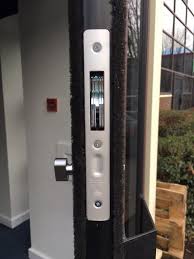 Locksmith Coalville service. When working with business clients, we aim to provide you with a confidential and professional service. No matter what security problem you're have.
Here at Coalville Locksmiths we are the leading commercial locksmiths, holding over 15 years of experience within the industry. All of our staff are CRB checked, have the latest training and product knowledge, alongside full public liability insurance of up to 2 million pounds.
Common Problems With uPVC Doors
Here at Coalville Locksmiths   upvc door lock repairs we have repaired and installed almost every type of uPVC locking system on today's market,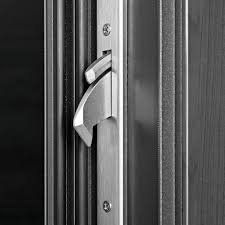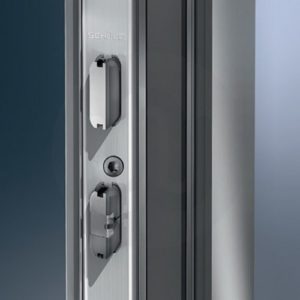 from single catch window locks to high security, multi-point deadbolt mechanisms, we deal with them all.
If your uPVC locks are giving cause for concern, phone us now. Don't wait until your key has snapped in the lock, or you can't gain entry to your home. Constant opening and closing eventually loosen screws, hinges and handles, allowing doors and windows to twist, and causing locks to drop out of alignment. For information regarding our services, please call us today 07729554332
uPVC doors main problems with your uPVC doors, will be the mechanism, which can be quite flimsy especially if you have heavy handed children using it daily, but you can also have handles that become limp or faulty, locks that break or keys that get stuck, and of course the hinges which we already mentioned. The mechanism inside your uPVC door over time can fail, making it impossible to lock your door again. If you're having trouble with your door, then we can assist you 24 hours a day.
uPVC Lock Specialists
Have you recently moved into a new home? Are you significantly concerned about the existing door and window locks? Coalville Locksmiths  can survey your current security situation, and upgrade your locks with quality and affordable solutions. Home and workplace security is a serious concern for everyone, and it's important not to wait until you've become another burglary statistic. In addition if you have any reason to be concerned about your uPVC door and window locks please give us a call.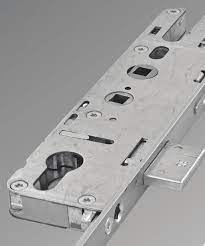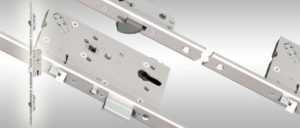 Coalville Locksmiths are also fully equipped to supply keyed-alike lock cylinders. Where a single key will operate all your window locks, and another for all your door locks, perfect for those who are fed up with a handful of keys for each lock in your home. Also, if you are concerned about an elderly member of the family living alone, we can supply and fit key override cylinders which allow entry in emergency situations, even if a key has been left in the inside lock. Our prices are highly competitive and our response times are excellent. Furthermore if you would like to arrange for Coalville Locksmiths  to come and see you, please give us a call today 07729554332
uPVC Window Repairs
At Coalville Locksmiths  we have been fully trained to handle fixing all types of uPVC doors and windows. Hence if your conservatory, plastic windows are starting to cease up or not work properly, call Coalville Locksmiths on 07729554332.
Often we find that uPVC windows suffer from age related break downs, such as seals in the joints failing. The hinges weakening and bending under constant use.

The good news is you don't need to go out and buy a new set of doors or windows, as these problems can be easily repaired by our skilled locksmiths, which could save you thousands of pounds.
Whether it's your double glazing that's failing, or your conservatory, we can fix it for you for a great price. With a professional service that'll have your uPVC windows working as good as new. Without changing the whole window units, but replacing and resealing the glass as well.
Repairing Your uPVC Window Locks
There are two main sources of uPVC window lock problems. They are the lock itself, or the internal mechanism that controls the opening of the window. This leads to not being able to open, close, or turn the key inside.
When you have a faulty lock, if it is a snapped key, the door doesn't function correctly, or there's a snapped part of the mechanism, we can fix it.
Damaged uPVC window hinges – these hinges will often become warped or wear down with constant use.
Blink Security Cameras
We Now Supply and Fit Blink Security Cameras
Home security has become a top priority for many homeowners in recent years. With the rise of smart technology, one popular choice is the Blink Security Camera.
Blink Security Cameras are a series of smart home security cameras designed to provide real-time monitoring of your property. These cameras are easy to install and offer a range of features that make them a reliable choice for home security.
One of the main advantages of Blink Security Cameras is their wireless design. They operate using a Wi-Fi connection, so you don't have to worry about cables or wires. This makes installation a breeze, and you can place the cameras wherever you need them without any restrictions.
Call 07729554332
Another notable feature of Blink Security Cameras is their motion detection technology. These cameras use advanced motion sensors to detect any movement on your property. When motion is detected, the cameras will send an alert to your smartphone or tablet, allowing you to quickly assess the situation.
Blink Security Cameras also come with a free mobile app, which you can use to view live footage from your cameras at any time. The app is user-friendly and provides access to a range of settings, including camera sensitivity, motion detection range, and video quality.
In addition to these features, Blink Security Cameras also offer cloud storage for your video footage. This means that all your recordings are securely stored in the cloud, so you can access them from anywhere, at any time. You can also choose to download footage to your device if you want to keep a copy for future reference.
Overall, Blink Security Cameras are a solid choice for homeowners looking for an easy-to-install, wireless security camera system. With their advanced motion detection technology, mobile app, and cloud storage, Blink cameras provide reliable home security at an affordable price point.
Key Aliked and Master Key Systems
Are you thinking of having your locks keyed alike? We will cover the benefits of keying alike and what door locks can and cannot be keyed alike.
What does Keyed Alike Mean?
Keyed alike means one key fits all locks, for example your front and back door locks can both use the same key or every lock in an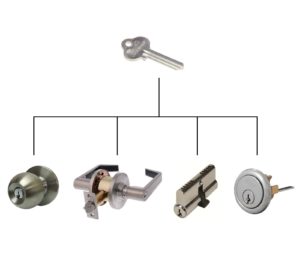 office can use the same key.  Having your locks keyed alike is very beneficial if you want to open & close all your door locks with one key.
The Master Key System is the perfect way to control the access all of your door locks easily. While allowing employees or family members to access certain doors but not others.
Meaning that you (as the master key owner) will always open every door with your one key. While you can allow certain people to have a key for that one particular lock. Contact us today for a quote, on 07729 554 332. This is perfect for businesses, as it will making it  quicker to lock up at the end of the day. While still allowing certain employees to have access to their various areas.
It's great for homeowners with a large number of external doors, and saves you carrying around  different keys.
 Master key For All Locks
Here at Coalville Locksmiths  we can supply, install and design a Master Key system for your home or business. Whether it's a small or large project, we offer a free quote before work is submitted. For more information, give us a call on 07729 554 332. You can find out more information about our services or Coalville Locksmiths here.
  Offices/Businesses
A master key system can greatly improve the security of an organisation by restricting staff access to certain areas, whilst making access to required areas much easier. Many businesses can have staff that work in more than one area e.g. cleaners, caretakers, security staff, delivery staff. Keys can be designed that will only allow access to authorised areas.
Commercial Locksmith Services
Furthermore If you own a business in Coalville, and have been locked out or need your business security reviewing, Coalville Locksmiths provides a Commercial Locksmith Coalville service. When working with business clients, we aim to provide you with a confidential and professional service. No matter what security problem you're have.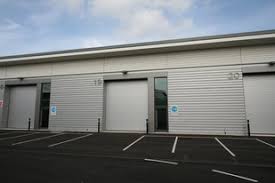 So if you have a roller shutter that's broken or won't lock, or you need extra security added to you doors, we can help you. Furthermore with offer  a great price too. We provide a full locksmith service  the Leicester and Leicestershire area.
We can do a security audit of your business, making sure that everything is in order. Vulnerable areas pointed out and the necessary advice given.
Commercial

Locksmith

in Coalville
 Coalville Locksmiths  can supply you with modern, anti snap euro cylinder, push pads and push bars, and security products. So if you are ever in need a commercial locksmith in Coalville or Leicestershire, then contact us today for a free quote, on 07729 554 332. 

We offer the following services for our business and commercial clients:
Getting you in the building from a broken lock or lost key

Locks changed

Push Bars and push pads

Fire Safety Door Mechanisms
At Coalville Locksmiths  we also offer a 24 hour emergency locksmith service for you and your business, so why not save our number to your phone or diary today. For emergencies call us on 07729 554 332  or for non emergency situations you can email us at richardson99@talk21.com. For some free advice.
Coalville Locksmiths
Coalville Locksmiths  was founded in 2003, and we have over 15 years as a locksmith. He also has a very technical background, having worked in technical engineering before that. So contact Tony at any time, to discuss your home security problems.
 

 
Coalville Locksmiths 

Covers Leicester and Leicestershire 
We also offer a 24 hours 7 days a week service. This covers all types of locksmith work from, lock-outs to lock changes. We have a no 'call-out' fee, no fix no fee and a no call out charge policy. Furthermore our aim is to get to you within one hour. Customer service and value for money is our main focus.We will be with you as soon as possible( normally within one hour). Furthermore your security is our top priority. When you call you can rest assured that there is no hard sell. You will be speaking to a real local locksmith with the knowledge and experience to help you. We will provide you with a professional service at an affordable price and a reliable service. Coalville Locksmiths, 
Our Job Is To Provid You With Solution and Peace Of Mind
   Solutions with things such as your wooden or UPVC doors and windows, deadbolts and the multitude of locking systems. Now available master key systems as well as safes and working on the security of commercial premises. Your property and belongings are what we aim to continue to keep safe.
   For more information about all the above services. In addition you can call us on 07729554332.  For more information on Coalville Locksmiths  visit one of our other website. AJ
Leicester Locksmiths
,
A+++++++ all round from start to finish. Very responsive, professional and courteous. Resolved my lock issue very quickly and expertly. An absolutely delightful company to deal with. Customer satisfaction focussed and extremely competitively priced. Thank you for restoring my peace of mind regarding security and safety.

Angela Spokes


My hero. My front door banged shut when something fell against it as I was outside offloading cardboard to the recycling men! Keys in back door, door locked but a kind neighbour rang Tony and five minutes later I was back inside. Amazing speedy response, polite,confident professional service and have already recommended Tony to three friends. What a great service,thank you.

Barbara Spence


Excellent service and brilliant advice. Would highly recommend. Arrived promptly and offered a competitive price. Can't thank enough for the advice given too.

Georgina Powell


Great service. Called them at gone 9PM on a Saturday (Sorry!) for an emergency call out Sunday morning. Polite, turned up on time, did the job, no fuss. Many thanks.

rob haynes


Tony is professional, reliable and honest. He provided me with a clear quote, arrived very promptly after I called him and completed the work to a very professional standard. I was very impressed with his services and would highly recommend him. Thank you Tony

Leanne Tracey


Very friendly and helpful. Would recommend

Phill Robinson


Excellent service, I rang for a locksmith to come out as i couldn't open the office windows, a locksmith called Tony came out the next morning to take a look, (no call out fee) he had the windows open within 5 minutes, awesome thank you !!! we will certainly use them again for any work of this kind, rates are very reasonable.

Spizza99


Professional, nice, THE FASTEST AND THE CHEEPEST service in whole LEICESTER! We called them and they were at ours in literally 15 minutes. We've been using their service 2 times and would never call anyone else than AJ LOCKSMITHS! They were always available for us, and what also make them stand out of the rest is that the guy that came to us is the nicest serviseman that I've been talking to since I've moved to this city. 5 stars but if I could I would give even more!

Nicole Friday


Excellent Service This from the first phone call to repair, payment and invoice. One of the most professional services I have dealt with from a Google local search. Highly Rated !!

Brian Rigby


Tony saved the day when we were locked out last month, and we are very grateful! I would honestly recommend him for anyone looking for a locksmith in Leicester, affordable & reliable, just what you need in an emergency! Thanks again Tony and the AJ Locksmiths team.

Matt Jackson


A rainy Saturday evening and the back door failed to lock. Tony was here within an hour and fixed the problem and offered advice. Excellent service, thank you.

Keith Riddell


Professional and friendly, I would highly recommend Tony & AJ Locksmiths to anyone looking for a reliable locksmith in an emergency!

Theresa Bond


Great service and very professional. This is the second time I have used AJ Locksmiths and every time the service is 5 star.

Christian Taylor


Tony came to get us in one Sunday evening when we had locked ourselves out. From the moment we called him he was professional, friendly and reliable. He came well within the time slot he had quote, was very reasonable on price and was pleasant when he arrived. Would highly recommend. Thanks Tony!

Ben Tracey


The hinges of my bathroom window came off during Hurricane Doris. I called these guys and they quoted me a much cheaper price than the other two guys i had called before. A new hinge needed to be ordered, but Tony the Locksmith was able to secure the window before he left. He promised to order the hinge as soon as he left, and once it arrived he called me and we made an appointment for him to come back and fix the window the next day. The window was fixed within half an hour from the time these guys arrived. I would definitely recommend them to anyone. They are professional, polite and offer competitive prices for their work...

Sandra Garwe


Just opening a new retail store in Loughborough. Tony from AJ Locksmiths was great! Helped us install a suited key system into an existing aluminium profile entry door. Thanks Tony.

Neal Gohill


Excellent, and quick service. Price was good too.

F3D -


Tony provided excellent customer service. Same day, punctual, good advice, listens to the customer and not pushy. I am very pleased with the end result, two broken locks on UPVC doors fixed. I would definitely recommend him.

Katie Burrows


Fantastic service from AJ Locksmiths very professional would highly recommend.

Frank kemp


First class service. Reliable, friendly and honest. I would highly recommend AJ Locksmiths to anyone looking for a trustworthy and affordable locksmith.

Becki A


Extremely fast, courteous and professional service. Was pleasantly surprised by the speed of response and the manner in which he resolved my problem. would highly recommend

dcmarsh1


I don't usually write reviews but in this case I thought I must as I was very impressed with the service and knowledge that Tony of AJ Locksmith showed when he came to look at our lock that had seized. Firstly I was given a polite and well mannered telephone conversation when arranging an appointment. He turned up promptly at the arranged time. With no trouble at all Tony fixed the problem explaining what was happening as he went along, being courteous and tidy at all times. I would definitely recommend AJ Locksmiths to my friends and use his services again.

Paul "pw" Warhurst


Top service, turned up promptly at the time agreed, very knowledgeable, and had the lock changed and the door working in no time, with a very reasonable price.

steve ryan


Very rapid to respond, very punctual and efficient. He helped describe to us what caused the problem and possible solutions for the fix, and was very fairly priced. If I have another problem again I would not hesitate to give AJ Locksmith a call, and would recommend to anyone.

Derren Carlisle


Asked for a quote and within 10 minutes or so he arrived. The man was friendly and sorted the job quickly.

David Powell


Couldn't rate AJ Locksmith highly enough, we were locked out after a night out (our fault we lost the keys!) and Tony came to get us in. He was professional, got us in really quickly and was the cheapest quote we got after ringing round a few companies.

Leanne Richardson


Excellent service. Hopefully I'll never lock myself out again, but if I do then I know I'll be in safe hands with Tony. Professional, prompt and cost less than I excepted!!. Thanks

garethurford


Excellent customer service when in a very distressing situation as being locked out! Tony was very professional yet friendly and I'm very happy with the finished job! Thank you AJ Locksmith!

Rose Muston


Brilliant service, would highly recommend. No call out fee, quoted me a price and arrived when he said he would. Thank you so very much.

Annette Marissa


I called him out in a Sunday teatime...he was here within 20 minutes and sorted the problem in 10. Amazing service, thank you very much...would 100% recommend

Joanne Frith