Our Services
 Locksmith Birstall we have a range of residential locksmith services to help you make your home secure. Also we offer lock upgrades, repairs, uPVC door and window fixes, security surveys, and much more. We also offer a 24 hour emergency locksmith service, helping to gain access to your home. Lock repairs – we will fix your existing lock so it works again. uPVC door repairs – we can fix the locking mechanism inside the door, so it works like new. Also uPVC window repairs – we can fix complicated window lock mechanism. 
Lock replacements and upgrade.
Have you checked that all of your locks are up to insurance standard? At Locksmith Birstall we will always make sure that any
locks we fit will satisfy your home insurance company, if your unsure if your locks are insurance standard give us a call and we will be more than happy to help. Having the correct specification of lock is extremely important to keeping you property secure. Lost your keys and need your locks changing? Or maybe you have just moved home and want to make sure you are the only person with the keys to your new home? We can supply and fit new locks to your house to maintain the security of your house.
Brands Locksmith Birstall Work With
At Locksmith Birstall our aim is to offer you the best service possible, and therefore only use well known and trusted brands. Yale, ERA and Union across the industry and across the Leicestershire area, hence helping us to give you the quality locksmith service that you need and deserve. In addition to these manufacturers we can also source products from other manufacturers. Customers can purchase less well known locks or security device that we don't currently list here, furthermore please feel free to contact us as we may be able to source it from one of our suppliers, helping you to get everything you need from one place.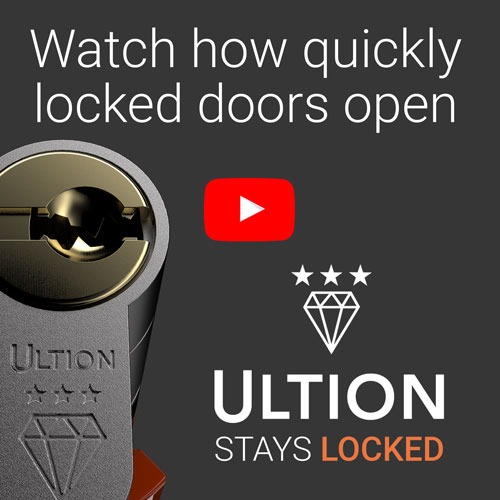 The Ultion range of Euro cylinders is possibly the strongest and best on the market.
Designed to withstand every type of attack the Ultion cylinder is Birstall Locksmiths choice for Euro cylinders.
PASSES ALL LOCK TESTS Your ABS lock has been tested by the Master Locksmith Association and has achieved the coveted Sold Secure Diamond standard.
New Locks and Lock Replacements
Mortise locks fitted from new, replaced or upgraded to British Standard.

Yale locks fitted, replace or upgraded.

Internal door locks.

uPVC multipoint locks replacements.
Upvc Door Services
If your uPVC locks are giving cause for concern. Don't wait until your key has snapped in
the lock, or you can't gain entry to your home. Constant opening and closing eventually loosens, hinges and handles, allowing doors to twist, and causing locks to drop out of alignment. Call us today 07729554332
Ultion 3 Star Euro Cylinder
These are a specialist type of lock that's been given the highest standards from the
locksmith association, to prevent the burglar using a lock snapping technique. The Ultion range of Euro cylinders is possibly the strongest and best on the market.
Designed to withstand every type of attack the Ultion cylinder is Locksmith Birstall  choice for Euro cylinders.
Master Key Systems and Keyed A liked
Here at  Locksmith Birstall we can supply, install and design a Master Key system for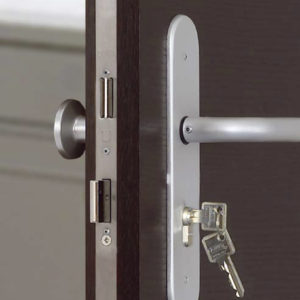 your home or business, whether it's a small or large project, we offer a free quote before work is submitted. This is perfect for businesses, as it will making it  quicker to lock up at the end of the day. While still allowing certain employees to have access to their various areas. It's great for homeowners with a large number of external doors, and saves you carrying around  different keys.
Out or need your business security reviewing, Locksmith Birstall provides a Commercial
Locksmith Leicester service. When working with business clients, we aim to provide you with a confidential and professional service. No matter what security problem you're have.
Call Locksmith Birstall Today
Whatever time of day  Locksmith Birstall are here to help. So if you need a lock changing Or maybe a uPVC door or window fixed? We cover Leicester and Leicestershire with our Locksmith services. Call us Now 07729 554 332
UPVC Door Repairs
Common Problems With uPVC Doors
Here at Locksmith Birstall upvc door lock repairs we have repaired and installed almost every type of uPVC locking system on today's market, from single catch window locks to high security, multi-point deadbolt mechanisms, we deal with them all.

If your uPVC locks are giving cause for concern, phone us now. Don't wait until your key has snapped in the lock, or you can't gain entry to your home. Constant opening and closing eventually loosen screws, hinges and handles, allowing doors and windows to twist, and causing locks to drop out of alignment. For information regarding our services, please call us today 07729554332
uPVC doors main problems with your uPVC doors, will be the mechanism, which can be quite flimsy especially if you have heavy handed children using it daily, but you can also have handles that become limp or faulty, locks that break or keys that get stuck, and of course the hinges which we already mentioned. The mechanism inside your uPVC door over time can fail, making it impossible to lock your door again. If you're having trouble with your door, then we can assist you 24 hours a day.
uPVC Lock Specialists
Have you recently moved into a new home? Are you significantly concerned about the existing door and window locks?  Locksmith Birstall can survey your current security situation, and upgrade your locks with quality and affordable solutions. Home and workplace security is a serious concern for everyone, and it's important not to wait until you've become another burglary statistic. In addition if you have any reason to be 
concerned about your uPVC door and window locks please give us a call.
 Locksmith Birstall are also fully equipped to supply keyed-alike lock cylinders. Where a single key will operate all your window locks, and another for all your door locks, perfect for those who are fed up with a handful of keys for each lock in your home. Also, if you are concerned about an elderly member of the family living alone, we can supply and fit key override cylinders which allow entry in emergency situations, even if a key has been left in the inside lock. Our prices are highly competitive and our response times are excellent. Furthermore if you would like to arrange for Locksmith Birstall to come and see you, please give us a call today 07729554332
Repairs, installs & replacements
Barrel and cylinder replacement with new keys 
Multi-point barrel and cylinder replacement
Agents for Ultion, high security 'Anti-snap' locks
Commercial & domestic services
Installers of Master Key systems
Cylinder security upgrades
Matched single keyed cylinders
We're specialists when it comes to completing repairs on door locks. Call us today for further information. Replacements If you're looking to upgrade your locking systems, then our wide range of quality locks will be a perfect upgrade. We take a lot of pleasure from helping customers, whether that's repairing locks or providing expert advice.
uPVC Window Repairs
At Locksmith Birstall, we have been fully trained to handle fixing all types of uPVC doors and windows. Hence if your conservatory, plastic windows are starting to cease up or not work properly, call Locksmith Birstall on 07729554332.
Often we find that uPVC windows suffer from age related break downs, such as seals in the joints failing. The hinges weakening and bending under constant use.

The good news is you don't need to go out and buy a new set of doors or windows, as these problems can be easily repaired by our skilled locksmiths, which could save you thousands of pounds.
Whether it's your double glazing that's failing, or your conservatory, we can fix it for you for a great price. With a professional service that'll have your uPVC windows working as good as new. Without changing the whole window units, but replacing and resealing the glass as well.
Repairing Your uPVC Window Locks
There are two main sources of uPVC window lock problems. They are the lock itself, or the internal mechanism that controls the opening of the window. This leads to not being able to open, close, or turn the key inside. We are highly skilled at finding and solving the fault in your lock, with experience in many different styles and brands of window lock
When you have a faulty lock, if it is a snapped key, the door doesn't function correctly, or there's a snapped part of the mechanism, we can fix it.
Damaged uPVC window hinges – these hinges will often become warped or wear down with constant use, and so need fixing every once in a while.
uPVC security devices
Safety and security are important, and you can make your windows child safe with lock restrictors, or alternatively a useful uPVC window cable, all child safety features.
uPVC window handles – the handle might have weakened, or even fallen off, we can fix it.
Commercial Locksmith Services
If you own a business in Leicester, and have been locked out or need your business security reviewing, Locksmith Birstall provides a Commercial Locksmith Leicester service. When working with business clients, we aim to provide you with a confidential and professional service. No matter what security problem you're have.
So if you have a roller shutter that's broken or won't lock, or you need extra security added to you doors, we can help you. Furthermore with offer  a great price too. We provide a full locksmith service to the Leicester and Leicestershire area.
We can do a security audit of your business, making sure that everything is in order. Vulnerable areas pointed out and the necessary advice given. No security flaws  would be left so burglars can gain access to your business.
Commercial Locksmith in Birstall
 Locksmith Birstall can supply you with modern, anti snap euro cylinder, push pads and push bars, and security products. So if you are ever in need a commercial locksmith in Leicester or Leicestershire, then contact us today for a free quote, on 07729 554 332. Furthermore  visit our Locksmiths page Oadby by clicking here

We offer the following services for our business and commercial clients:
Getting you in the building from a broken lock or lost key

Locks changed

Push Bars and push pads

Fire Safety Door Mechanisms
At Locksmith Birstall we also offer a 24 hour emergency locksmith service for you and your business, so why not save our number to your phone or diary today. For emergencies call us on 07729 554 332  or for non emergency situations you can email us at richardson99@talk21.com. For some free advice.

Locksmith Birstall was founded in 2003, and we have over 15 years as a locksmith, with many happy customers over the years. He also has a very technical background, having worked in technical engineering before that. So contact Tony at any time, to discuss your home security problems.
Call 07729554332
Landlord or Property Owner? Lock Changes Needed
Locksmith Birstall have worked with a number of landlords throughout Leicester and Leicestershire. Furthermore if you have recently moved, changed tenants, have lost a key, not sure who has keys or would just like a lock changed. Hence we can change or upgrade any lock on your home or business at highly competitive prices.
HMO / Multi Occupancy Locking Systems
Our web site shows in graphic form how this works. There can be many levels to a cylinder master key system. A basic system is where all cylinder locks are opened by a single Master Key but each of the door cylinders are opened by their own key often referred to as the slave or differ key.
This system is typical for a HMO or Landlord whereby the Landlord wants his own single Master Key to open all the locks, but to ensure that the tenant has a differ key that is unique to their own door.
Very often, the Landlord will also have a Cylinder Lock fitted to the main door. This door cylinder can be opened by the Master Key and each of the tenant's keys and this is referred to as a common entrance. Whilst this is not recommended, it is by far the most convenient Master Key System for HMO's and landlords.
For assistance in selecting the right type of master key system, feel free to contact us.
 Locksmith Birstall Covers Leicester and Leicestershire 
We also offer a 24 hours 7 days a week service. This covers all types of locksmith work from, lock-outs to lock changes. We have a no 'call-out' fee, no fix no fee and a no call out charge policy. Furthermore our aim is to get to you within one hour. Customer service and value for money is our main focus.
We will be with you as soon as possible( normally within one hour). Furthermore your security is our top priority. When you call you can rest assured that there is no hard sell. You will be speaking to a real local locksmith with the knowledge and experience to help you. We will provide you with a professional service at an affordable price and a reliable service.
For more information about all the above services. In addition you can call us on 07729554332. For more information on Birstall Locksmiths visit one of our other websites.